September 21, 2022
Yara's Birkeland Prize awarded to Dr. Kaiqi Xu
The NOK 100,000 Birkeland Prize for 2022 in chemistry was awarded to Kaiqi Xu for his PhD thesis titled "Artificial Photosynthesis: Advanced nanomaterials and use of biocatalysis for novel photoelectrochemical cells".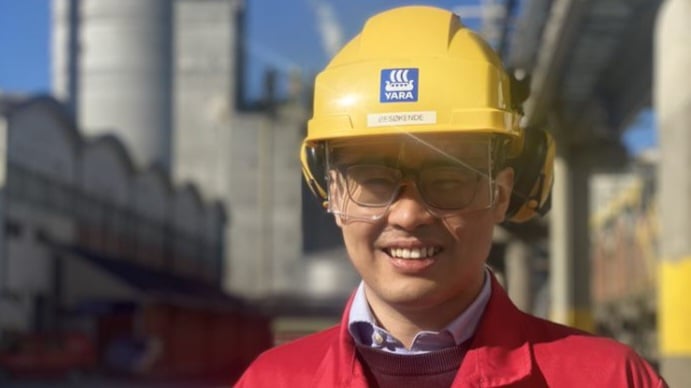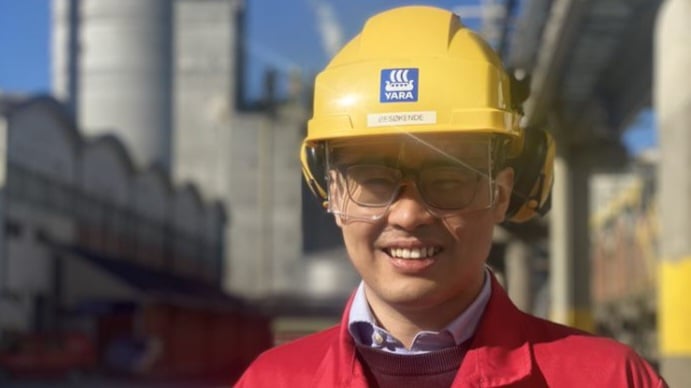 Every year we celebrate and remember Kristian Birkeland by handing out the Birkeland Prize. An award named after a remarkable scientist, given to another remarkable scientist. In Yara, we are extremely proud of our heritage. The science of Kristian Birkeland led to what has been called the most lifesaving innovation ever — mineral fertilizers.
"Every year we hand out the Birkeland Prize. An award named after a remarkable scientist, given to another remarkable scientist."
Billions of lives saved
This year, it has become even more apparent the contribution Kristian Birkeland made to the world. After Russia's invasion of Ukraine we have seen an intensification of the global food crisis.
"So far this year, 400 million more people have become food insecure. And we have seen world leaders suddenly speaking about the importance of fertilizers and keeping food production high", said Vice President Technology in Yara, Per Knudsen, in his speech when the prize was handed out in Oslo on September 20.
Artificial photosynthesis
Xu's most ambitious goal, inspired by nature's photosynthesis, has been to develop the artificial photosynthesis based on CO2 capture, combined with biocatalytic transformation (dehydrogenase enzyme) to organic chemicals by the use of solar power.
The breakthrough of his work was a method for successful production of solar fuel, a synthetic chemical fuel produced by solar power, done with selective CO2 reduction in a stable, effective enzymatic photosynthesis cell.
Sustainable production of green hydrogen
Dr. Xu has contributed with groundbreaking research within renewable energy, which has resulted in new electrochemical methods for splitting water to hydrogen, and oxygen by sun light. A sustainable process for production of green hydrogen from air humidity was developed. The method will make is possible to produce hydrogen in poor infrastructure areas.
The results of the research has a significant impact on the continuous work within artificial photosynthesis and solar fuels.
Yara's annual Birkeland prize focuses on environmental technology, and shall stimulate the interest for interdisciplinary research and development, which characterized Dr. Xu's work.
You may read more about his work in the journal Applied Catalysis B Environmental.