September 27, 2023
John Deere and Yara partner to increase fertilization efficiency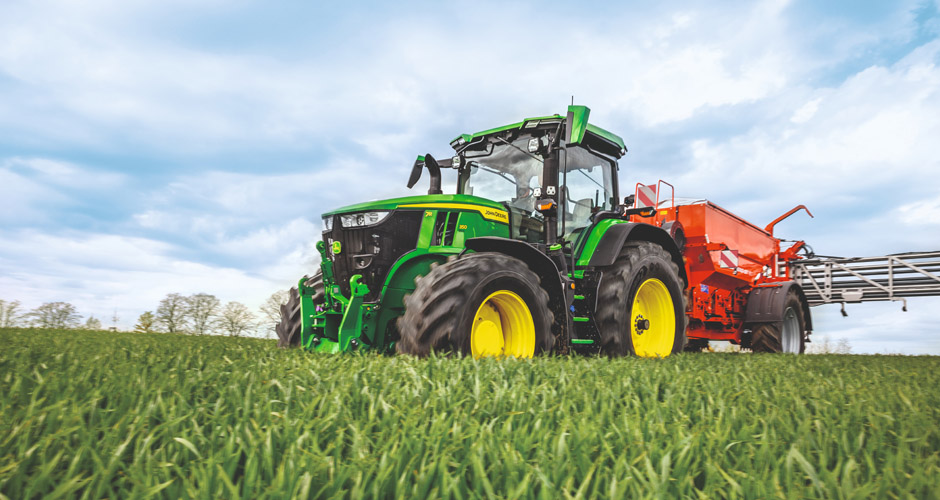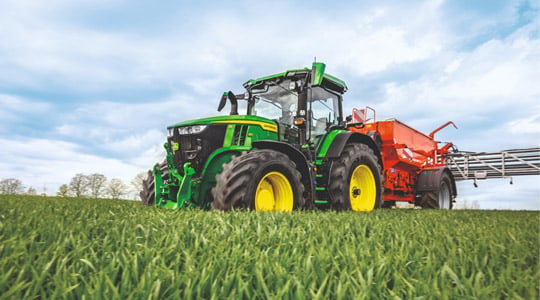 Walldorf and Oslo, September 26, 2023: John Deere and Yara have joined forces to launch a partnership that will combine Yara's agronomic expertise with John Deere's precision technology and advanced machinery. The partnership will enable farmers to increase yields and optimize fertilizer use, helping them contribute to the ambition of the European Union's Farm to Fork Strategy.
To be able to produce more efficiently and sustainably, farmers need high-quality, actionable data and the technology to put these insights into practice. This is where digital farming will play a big role in helping farmers optimize the productivity of their fields. To further this vision, the advanced connectivity between the John Deere Operations Center™ and Yara's Atfarm digital platform will provide farmers with tailored crop nutrition recommendations rooted in agronomic precision to ensure crops receive the right amount of nutrients where and when needed.
Partnering to make every nutrient count
The Atfarm platform uses Yara's proprietary optimized index, which enables farmers to monitor the biomass development of their crops and nitrogen uptake throughout the season and access field specific variable rate application maps. This data can be seamlessly shared as a WorkPlan with the John Deere Operations Center™. Farmers can add operational details and wirelessly synchronize the plans, including prescriptions, to any machine featuring the John Deere Gen4 or G5 Display.
As executing variable rate maps is often perceived as complicated, this John Deere Yara solution makes it much easier, supporting farmers in producing more yield with less input. Through Yara's agronomic advice, trials show that farmers can achieve up to seven percent yield increase while securing up to 14 percent Nitrogen savings in fertilizer use.
The new connectivity will be piloted from spring 2024 to a group of farmers in
Germany, France, and the UK. In addition, Yara and John Deere will continue to collaborate on additional opportunities to further improve nutrient use efficiency for farmers.
Unique combination of expertise
"Achieving the ambitious goal of the Farm to Fork Strategy to reduce nutrient losses by 50% in 2030 requires the industry to work together. Through partnering with John Deere, farmers will be able to use our recommendations in an easy, practical way. This contributes to more sustainable food production without adding complexity for farmers," says James Craske, VP Digital Solutions Europe at Yara International.
Katharina Nies, Marketing Manager Precision Ag at John Deere highlights: "For Small Grain Producers, crop nutrition is one of the largest opportunities for optimization. We are excited to partner with Yara, as this is a unique combination of science-based fertilization recommendations together with John Deere's connected, highly precise & intelligent machines. With that farmers can achieve highest levels of nutrient use efficiency."
Contacts
John Deere Walldorf GmbH & Co. KG
Finn Niclas Marien
Public Relations Specialist
Mobile: +49 151 72492542
E-mail: MarienFinnN@JohnDeere.com
Yara International
Tonje Næss
Senior Media Relations Manager
Mobile: +47 408 44 647
E-mail: tonje.nass@yara.com
About Yara
Yara grows knowledge to responsibly feed the world and protect the planet. Supporting our vision of a world without hunger and a planet respected, we pursue a strategy of sustainable value growth, promoting climate-friendly crop nutrition and zero-emission energy solutions. Yara's ambition is focused on growing a nature positive food future that creates value for our customers, shareholders and society at large and delivers a more sustainable food value chain.
To achieve our ambition, we have taken the lead in developing digital farming tools for precision farming and work closely with partners throughout the food value chain to improve the efficiency and sustainability of food production. Through our focus on clean ammonia production, we aim to enable the hydrogen economy, driving a green transition of shipping, fertilizer production and other energy intensive industries.
Founded in 1905 to solve the emerging famine in Europe, Yara has established a unique position as the industry's only global crop nutrition company. We operate an integrated business model with around 17,000 employees and operations in over 60 countries, with a proven track record of strong returns. In 2022, Yara reported revenues of USD 24 billion. www.yara.com
About John Deere
John Deere is a world leader in providing advanced products and services. The company's innovative technology is key to serve the growing worldwide population. Higher standards are necessary to meet the world's dramatically increasing need for food, fuel, shelter and infrastructure.
More than 79,000 employees worldwide generate a turnover of 52 billion US-$ with agricultural equipment, as well as lawn and grounds care equipment and construction and forestry equipment. In 2017 the company acquired the Wirtgen Group, the leading manufacturer of road construction equipment.
John Deere runs more than 70 manufacturing facilities in 19 countries and the products are sold in 160 countries worldwide. The company has a strong presence in Europe, CIS, Africa and Near & Middle East. With nearly 19,000 employees John Deere is the largest employer in Europe.