Corporate releases
Yara Clean Ammonia and Bunker Holding sign an MOU to develop the market for ammonia as a shipping fuel
June 23, 2023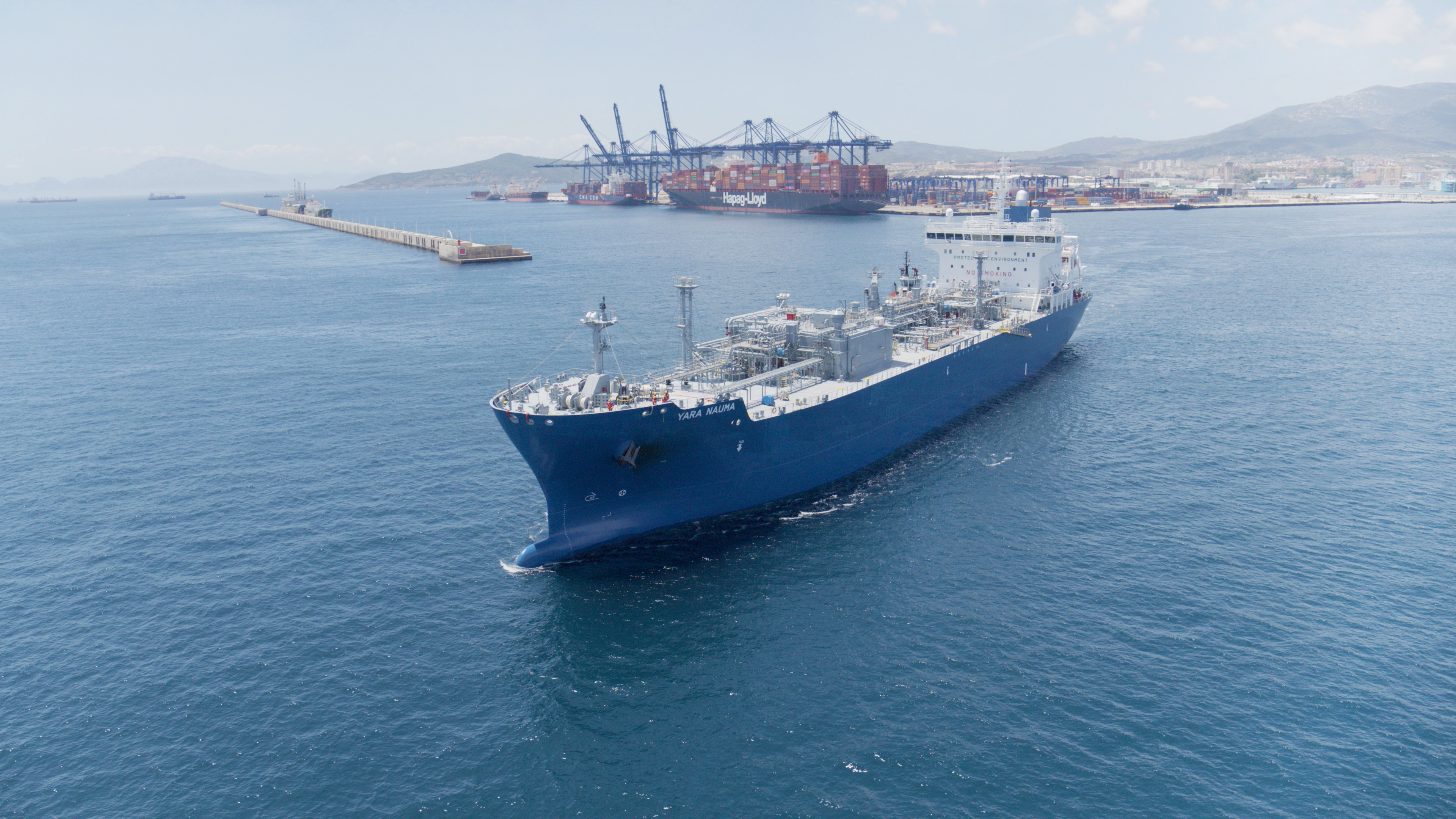 The two companies signed a Memorandum of Understanding to explore opportunities to work together to accelerate plans to supply the shipping industry with ammonia as a fuel. The collaboration will focus on exploring opportunities to supply clean ammonia as a marine fuel to First Movers in the shipping industry along key trade routes and bunkering ports in various geographical regions.   

Yara Clean Ammonia (YCA) and Bunker Holding Group signed an MOU establishing the intention to collaborate to accelerate the development of the market for clean ammonia as a shipping fuel. This agreement connects two key elements of the supply chain needed to achieve the use of clean ammonia as a shipping fuel, namely a global supplier of clean ammonia and the largest bunker supplier today in terms of end users.
This commitment will cover multiple global geographies and focus on serving First Mover initiatives spanning different regions.
Ammonia, a sustainable solution for maritime transport
Clean ammonia is one of the most effective alternatives for decarbonizing maritime transport. As of 2026, shipping companies are expected to expand the use of this sustainable fuel to reduce CO2 emissions by up to 100% on a full life cycle basis.
The development and use of sustainable fuels contributes to several of the 2030 Agenda's Sustainable Development Goals: SDG 7 (Affordable and clean energy), SDG 8 (Decent work and economic growth), SDG 12 (Responsible consumption and production), and SDG 13 (Climate action).
Murali Srinivasan, SVP Commercial of Yara Clean Ammonia, said: "We look forward to collaborating with Bunker Holding to support the acceleration of the net-zero carbon energy transition for the Shipping Industry with clean ammonia. Our global assets and logistical footprint coupled with Bunker Holdings position as the world's largest bunker player will bring safety, reliability, and security of clean ammonia supply as shipping fuel and will add more resilience and robustness to developing this value chain in the future"
Valerie Ahrens, Senior Director, New Fuels and Carbon Markets of Bunker Holding, said: "We are excited to work with Yara Clean Ammonia on developing a credible commercial offering for the supply of low- and zero-carbon ammonia to our global customer base. We at Bunker Holding are committed to playing a leading role in facilitating the decarbonization of the maritime sector and as such it is vital for us to collaborate with partners who can offer the market confidence around the scale and security of supply of low-carbon fuels." 
About Yara Clean Ammonia
Yara grows knowledge to responsibly feed the world and protect the planet. Yara Clean Ammonia is uniquely positioned to enable the hydrogen economy in a market expected to grow substantially over the next decades. We aim at significantly strengthening our leading global position as the world's largest ammonia distributor, unlocking the green and blue value chains, and driving the development of clean ammonia globally.
Building on Yara's leading experience within global ammonia production, logistics and trade, Yara Clean Ammonia works towards capturing growth opportunities in low-emission fuel for shipping and power, carbon-free food pro-duction and ammonia for industrial applications.
Yara Clean Ammonia operates the largest global ammonia network with 15 ships and access to 18 ammonia terminals and multiple ammonia production and consumption sites across the world, through Yara. Revenues and EBITDA for the full year 2022 were USD 4,422 million and USD 249 million respectively. Yara Clean Ammonia is headquartered in Oslo, Norway
www.yaracleanammonia.com
About Bunker Holding
Bunker Holding is a global leader in the purchasing, selling, and supplying of marine fuel and lube oil as well as providing risk management and other vital services for the shipping industry. The company has a rich history and today operates in more than 30 countries with 66 offices and more than 1,650 employees.
Bunker Holding is committed to serving the shipping industry and is one of the world's leading bunker suppliers. The company fuels the shipping industry in every bunkering hub, every time zone, and on every continent. In addition to this, Bunker Holding identifies threats to clients' margins from volatile fuel prices and minimizes their exposure. Their expertise is internationally recognized and attracts many external clients including major airlines. The company has also established a foothold in the market for physical supplies. With a focus on niche areas, and supplies sourced from the world's main bunkering ports, Bunker Holding has achieved a strong competitive edge, attracted new customers, and will deliver psychical supplies to even more ports in the following years. https://www.bunker-holding.com/
Media contacts:
Yara Clean Ammonia
Hilde Steinfeld, Communications Director
E-mail: hilde.steinfeld@yara.com
Mobile.: +47 99 35 30 30
Bunker Holding
Camilla Pedersen, Group Communications
E-mail: cape@ustc.dk
Tel.: +45 78 79 82 03