Corporate releases
Yara invests in CCS in Sluiskil and signs binding CO2 transport and storage agreement with Northern Lights – the world's first cross-border CCS-agreement in operation
November 20, 2023
Oslo, 20 November 2023: Yara International, a leading global ammonia player, and Northern Lights, a CO2 transport and storage supplier, sign a binding commercial agreement, enabling the first cross-border transportation and storage of CO2. Yara aims to reduce its annual CO2-emissions by 800,000 tons from the ammonia production at Yara Sluiskil. The CO2 will be liquefied and shipped by Northern Lights from the Netherlands to permanent storage on the Norwegian continental shelf, 2.6 kilometres under the seabed.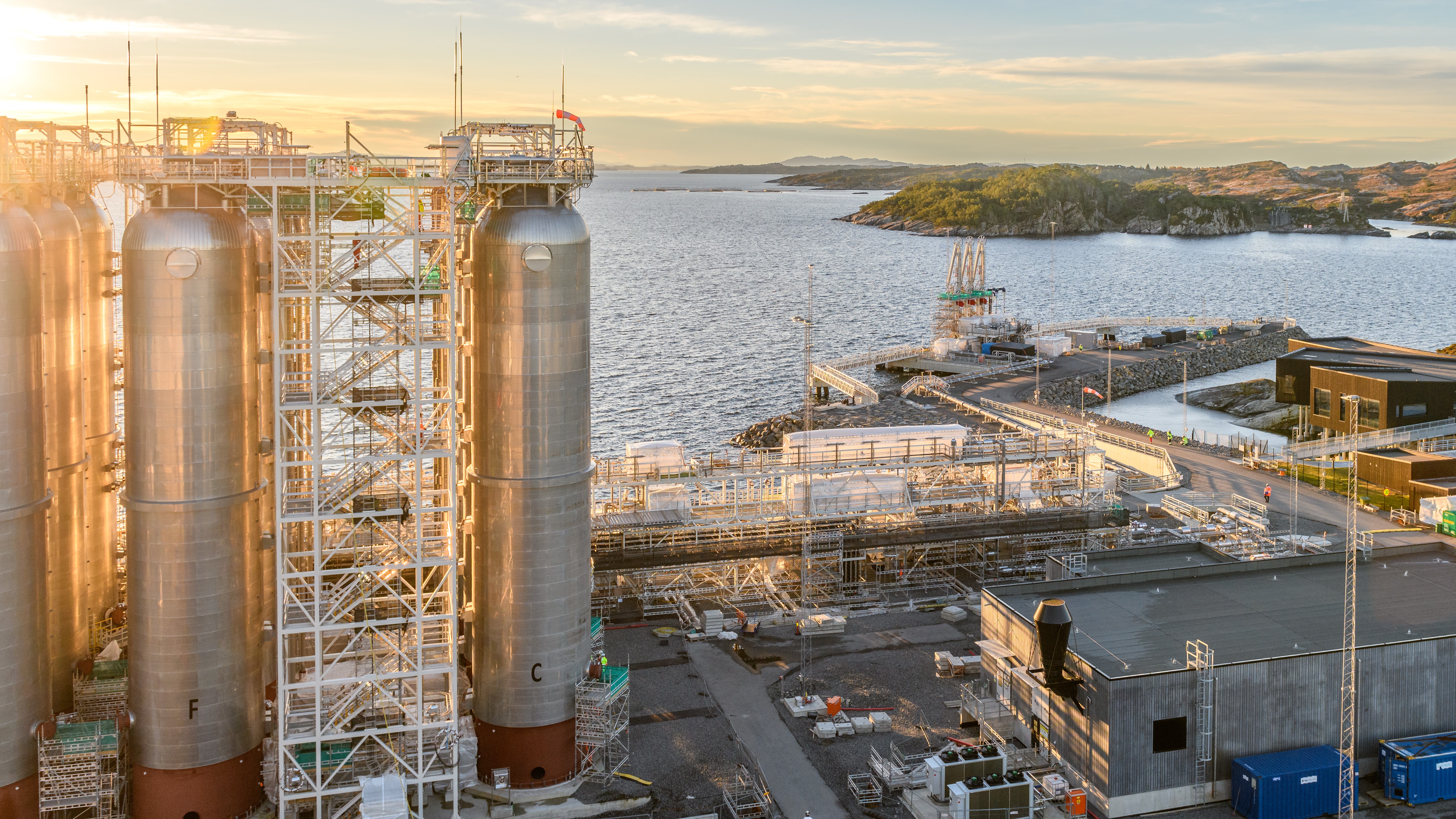 - This is a milestone for decarbonizing hard-to-abate industry in Europe and for Yara it's an important step towards decarbonizing our ammonia production, product lines and the food value chain at large, says Svein Tore Holsether, CEO of Yara International.
- We are very pleased that Yara has selected Northern Lights as CO2 transport and storage provider. This commercial agreement gives us the opportunity to further utilise the capacity at our storage site below the North Sea. It confirms the commercial potential for CCS and demonstrates that the market for transport and storage of CO2 is evolving rapidly, says Børre Jacobsen, Managing Director of Northern Lights.
Cutting 12 million tons of CO2 over the next 15 years
Cutting 800,000 tons CO2 in Yara Sluiskil corresponds to 0.5% of the total annual emissions (2022) in the Netherlands. Over the next 15-years Yara will remove approximately 12 million tons of CO2 from its production in Sluiskil.
- Yara Sluiskil is showing the way forward for European industry by taking another step on the decarbonization journey. Since 1990 Yara Sluiskil has cut 3.4 million tons of CO2 equivalents per year from its ammonia and fertilizer production, whilst at the same time almost doubling its production. Now we continue by reducing one of the biggest emission points in the Netherlands, says Michael Schlaug, VP Yara Netherlands.
Decarbonized future for food-production and shipping
- Clean ammonia can decarbonize hard-to-abate sectors like shipping, chemical production, and power production. It will enable the hydrogen economy, and the time to start using clean ammonia and hydrogen to decarbonize Europe is now, says Magnus Ankarstrand, President of Yara Clean Ammonia.
This project forms part of Yara's ongoing strategic transition to decarbonize and future-proof its core production assets as Yara Sluiskil is one of the world's largest ammonia and mineral fertilizer plants. In addition to this project, Yara is evaluating potential large-scale blue ammonia production projects with CCS in the US. Coupling these investments with its leading global ammonia position, Yara can profitably decarbonize its premium product operations in Europe while also diversifying its energy position. To allocate capital to this transition, Yara is considering a number of options including a minority divestment of YCA, asset divestments and other available funding sources.
CCS is key to decarbonize hard-to-abate industries in Europe
The world is closing in on 2030 and action is required to meet the objectives of the Paris Agreement. UN Secretary General Guterres stated in an address to the UN General Assembly on 20th September 2023: "We can – and we must turn up the tempo". On 27th October 2022 in Oslo, EU Commissioner Simson expressed her conviction "that CCUS has incredible potential in our race to reach climate neutrality". CCS provides a decarbonization solution to reduce climate emissions. The agreement between Yara and Northern Lights will kickstart the commercial market for CCS in Europe.
CCS is a cost-efficient decarbonization solution that is compatible with existing European production infrastructure, especially in the case of ammonia and fertilizer production. We need to use all technologies at our disposal to address the climate emergency. European industries are eagerly awaiting the EU's CCUS strategy, to be announced early next year. To realize the full potential of this decarbonization route, CCS projects need to be supported by a dedicated regulatory environment for CO2 transport and storage infrastructure.
- To succeed with the green transition, we need strong partnerships and support from governments and the EU. CCS is an important part of the solution. Together we can significantly reduce GHG emissions and take us further step closer to transform industry and reduce emissions, says Holsether, CEO Yara International.
- Norway has the potential to provide Europe with significant CO2 storage, which will help the EU to reach their climate targets. It is a safe and efficient way to handle emissions and this agreement demonstrate that, says Børre Jacobsen, Managing Director of Northern Lights.
Facts about the agreement
Yara Sluiskil will capture approximately 800,000 tons of CO2 from the process gas from its ammonia production each year
Yara Sluiskil will expand its CO2 liquification capacity to liquify 12 million tons of CO2 over the next 15 years with an estimated capex of approximately EUR 200 million
Northern Lights will ship liquified carbon dioxide from Yara Sluiskil in the Netherlands to Øygarden in Norway
The liquefied CO2 will initially be stored in onshore tanks at Øygarden, prior to injection into an offshore saline aquifer via pipeline for permanent and safe storage, 2,600 meters below the seabed
Operations will start in 2025 and continue for 15 years
About Yara
Yara grows knowledge to responsibly feed the world and protect the planet. Supporting our vision of a world without hunger and a planet respected, we pursue a strategy of sustainable value growth, promoting climate-friendly crop nutrition and zero-emission energy solutions. Yara's ambition is focused on growing a nature positive food future that creates value for our customers, shareholders and society at large and delivers a more sustainable food value chain.
To achieve our ambition, we have taken the lead in developing digital farming tools for precision farming and work closely with partners throughout the food value chain to improve the efficiency and sustainability of food production. Through our focus on clean ammonia production, we aim to enable the hydrogen economy, driving a green transition of shipping, fertilizer production and other energy intensive industries.
Founded in 1905 to solve the emerging famine in Europe, Yara has established a unique position as the industry's only global crop nutrition company. We operate an integrated business model with around 17,000 employees and operations in over 60 countries, with a proven track record of strong returns. In 2022, Yara reported revenues of USD 24 billion.
About Yara Clean Ammonia
Yara grows knowledge to responsibly feed the world and protect the planet. Yara Clean Ammonia is uniquely positioned to enable the hydrogen economy in a market expected to grow substantially over the next decades. We aim at significantly strengthening our leading global position as the world's largest ammonia distributor, unlocking the green and blue value chains, and driving the development of clean ammonia globally.
Building on Yara's leading experience within global ammonia production, logistics and trade, Yara Clean Ammonia works towards capturing growth opportunities in low-emission fuel for shipping and power, carbon-free food pro-duction and ammonia for industrial applications.
Yara Clean Ammonia operates the largest global ammonia network with 15 ships and access to 18 ammonia terminals and multiple ammonia production and consumption sites across the world, through Yara. Revenues and EBITDA for the full year 2022 were USD 4,422 million and USD 249 million respectively. Yara Clean Ammonia is headquartered in Oslo, Norway
About Northern Lights
Northern Lights is developing the world's first cross-border CO2 transport and storage infrastructure. Delivering CO2 transport and storage as a service, Northern Lights enables mitigation of industrial emissions that cannot be avoided and accelerates the decarbonisation of European industry. Drawing on experience from over 25 years of CO2 storage on the Norwegian Continental Shelf, Northern Lights are at the forefront of developing CCS technologies. The company will transport liquefied CO2 from capture sites to an onshore receiving terminal in western Norway, before transporting it by pipeline for permanent storage in a reservoir 2,600 metres under the seabed. CCS is a necessary climate solution to decarbonise industry and reduce or remove industrial CO2 emissions. On schedule to be ready to receive CO2 in 2024, Northern Lights offers safe and reliable CO2 transport and storage services to industrial emitters in Norway and across Europe. Northern Lights JV DA is a registered, incorporated General Partnership with Shared Liability (DA) owned by Equinor, TotalEnergies and Shell.
For media inquiries, please contact:
Yara International:
Kaia Jarlsby
Mobile: +47 977 94 088
Mail: kaia.jarlsby@yara.com
Yara Clean Ammonia:
Hilde Steinfeld
Mobile: +47 99 35 30 30
Mail: hilde.steinfeld@yara.com
Northern Lights:
Benedicte Staalesen
Mobile: +47 468 11 754
Mail: media@norlights.com
Investor contact in Yara International:
Maria Gabrielsen
Mobile: +47 92090093
Mail: maria.gabrielsen@yara.com
Attachments